Grants
ARASA has been equipping civil society organisations and volunteers across Africa with grants that have the following objectives: Strengthen the capacity of national and regional civil society groups (including human rights organisations), networks of people living with HIV and key population organisations to advocate for an enabling legal environment; Strengthen the evidence base for advocacy for legal and policy reform; Enhance legal and rights literacy of communities, with a focus on people living with HIV and key population organisations; Address challenges in service provision and law enforcement related to people living with HIV and key populations and advocate for the enforcement of supportive laws to support improved access to and delivery of HIV and TB services for these key populations; and Strengthen access to justice and national mechanisms to prevent and address human rights violations that impede key population access to HIV/TB services.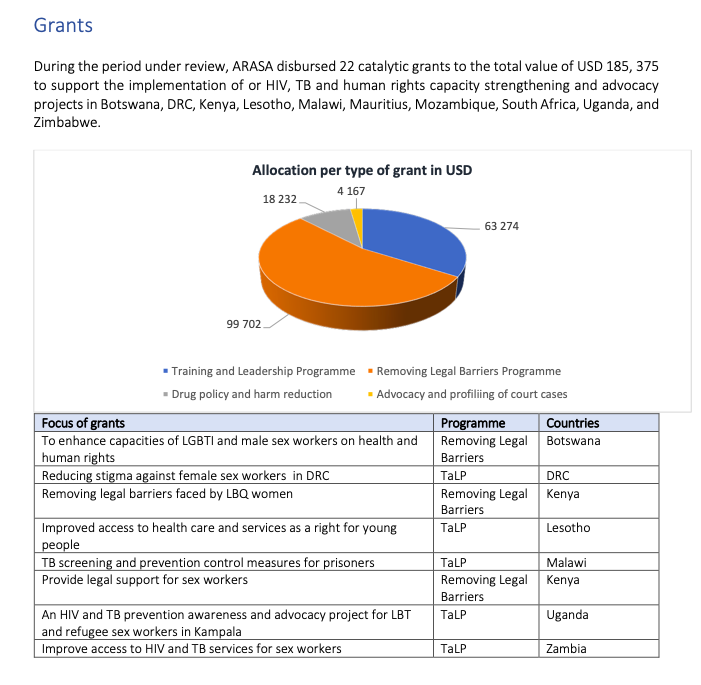 ARASA recently distributed USD 140,894 in grants to strengthen civil society advocacy. Amongst others, this resulted in the Malawi TB prison policy, which had been delayed for nearly two years due to lack of funds, finally being launched. Our technical and financial support provided to a partner organisation in Kenya also contributed to the formulation of the Transgender Guidelines for HIV Programming; the roll out of the size estimation for transgender persons; and the inclusion of transgender persons in the Kenya AIDS Strategic Framework.
Through subgrants from ARASA partners, including those in Namibia (VCRC) Kenya (Athena Network and Jinsiangu), Zimbabwe (Womandla, GALZ and ZY+), Mauritius (CUT), and South Africa (Gender Dynamix), ARASA reached 80,446 people through campaigns on radio, social media and webinars during events to mark international mobilisation including Trans Remembrance Day, Universal Health Coverage Day, International Women's Day, International Day against Homo and Transphobia and Day of the African Child, partners. The events aimed to create platforms for inclusive and honest conversation on SRHR and bodily autonomy and integrity, facilitating the sharing of experience of KPs, stakeholders and allies which strengthened public support on bodily autonomy and integrity advocacy. In Zimbabwe a Women's Rights Day Anthem song was composed around bodily autonomy and integrity. They were successful in igniting conversations while also giving vulnerable and marginalised groups a platform to inform them about SRHR interventions targeted at them.
The impact of COVID-19
During the COVID-19 pandemic we witnessed a decline in funding for HIV/AIDS and human rights funding through grants as financing was diverted to responses to the pandemic. However, we managed to support research and advocacy campaigns surrounding the effect of the pandemic on sexual an reproductive health rights (SRHR) including funding for recommendations on mitigating the impacts of Covid -19 on HIV Programs, as well as a rapid assessment on the impact of COVID-19 on community-led HIV responses in the SADC regions.
ARASA provided small grants to support COVID-19 and SRHR-related activities in five countries. The purpose of these grants was to support countries to address the sexual reproductive health and rights challenges posed by COVID-19:
Countries supported: Uganda – Uganda Harm Reduction Network (UHRN), Kenya – International Coalition of Women living with HIV (ICW), Seychelles – HIV AIDS Support Organisation (HASO), Zimbabwe – Zimbabwe Young Positives (ZY+), Zambia – Prison Care and Counselling Association (PRISCCA).
Constituencies reached: Sex workers, people who use drugs, young people living with HIV, women living with HIV, policy makers and young people.
Latest Grants and Consulting Opportunities